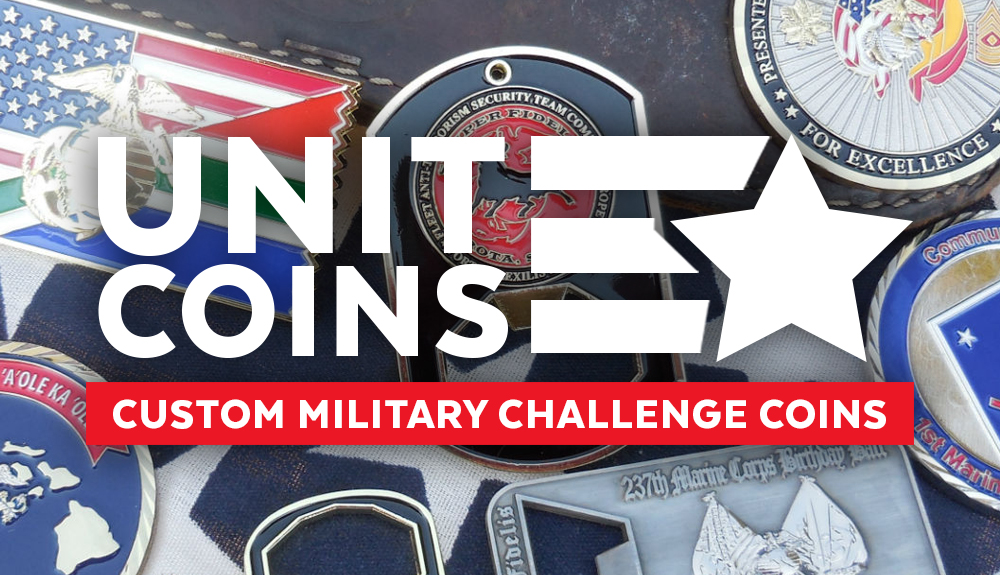 When considering a custom challenge coin there are several areas to review to make your coin stand out from the others and still stay within budget. These areas of concern are:
Custom Challenge Coin Size

Custom Challenge Coin Shape

Custom Challenge Coin Plating

Custom Challenge Coin Options
Custom Challenge Coin Size
The most common size coin today is 2" diameter. Standard challenge coin sizes are 1.5", 1.75" 2", 2.25", 2.5", 2.75" and 3", however, a coin can be any desired size.
Today coins are becoming larger and larger and we sell many coins over 2" every month. Coins under 1.5" are very rare and are for a very special application.
Custom Challenge Coin Shape
Custom challenge coins can come in any shape. Some of the more popular shapes are the shape of Unit Patches, a dog tag, bottle opener, a map or building or any image that represents a unit of mission.
Swipe right or left for more options.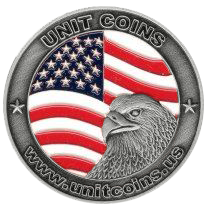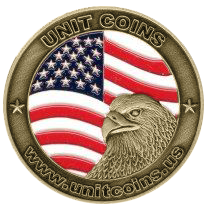 There are basically eleven different platings for a coin. They are: Brass, Antique Brass, Copper, Antique Copper, Silver, Antique Silver, Nickel, Antique Nickel, Black Nickel, Gold and Antique Gold.
The plating you choose will depend on the look you want your coin to portray and the dominant colors on your coin. For example, silver and nickel are popular with the Air Force and Navy. Brass is popular with the Army and Marines. Antique platings are used to make the coin look older or to give it a weathered look. It is a special process that dulls the plating color.
Gold is chosen for its perceived value. It is 24k, however, gold has a tinge to it and most prefer brass. Black nickel is used for special applications where you need to highlight a part of a coin design.
CUSTOM CHALLENGE COIN OPTIONS
Swipe right or left for more options.
Diamond Cut Swirl
$.25 per Side

Diamond Cut Wave
$.25 per Side

Diamond Scallop
$.30 per Side
Diamond Cut Net
$.35 per Side

Edge Text
$.35 per Side $.50 per Side with Color
The last area of concern to designing your Challenge Coin is the options you have available. We will start with the edging and work inward.
There are four types of edging you can choose for your coin. The most popular is the straight edge. It is the edge that is considered standard and there is no extra charge for this edge. The least popular edge is the reeded edge. It gives your coin the look of a quarter and is the most expensive edge. There are three different edges that we offer that are very unique and come at no additional charge. They are a Rope Border, a Chain Border and Concertina Wire Border. These three borders offer a unique edging to a coin and are offered at no additional cost because each is created as part of the die. Our final edging category is the Diamond Cut Edges which can be applied only to round coins. We offer four different styles starting with the Swirl, Wave, Scallop and Cut Net.
The most popular are the Swirl and the Wave. All of these edges are an additional price because they all require a separate cutting stage to the production of a coin. Because it is an extra step it allows you to add a different look to any round coin that is to have antique plating. You can produce an antique Diamond Cut Edge or a bright Diamond Cut Edge simply by scheduling the cutting before or after the plating. Finally to our edging category we offer Edge Text. This allows you to add text to the edge of your coin such as a saying, a quote, locations, names, ranks or campaigns.
Our next option that really adds to the look of a coin is color. You can add color to one or both sides of a coin and you can cover the entire surface of a coin with color. Each color is applied by hand and is the most time consuming part of production.
Swipe right or left for more options.
Epoxy Coating
1.5″ – 2″ $.15 per Side 2.25″ – 3″ $.20 per Side 3.25″ – 4″ $.30 per Side
Duel Plating
$.70 per Coin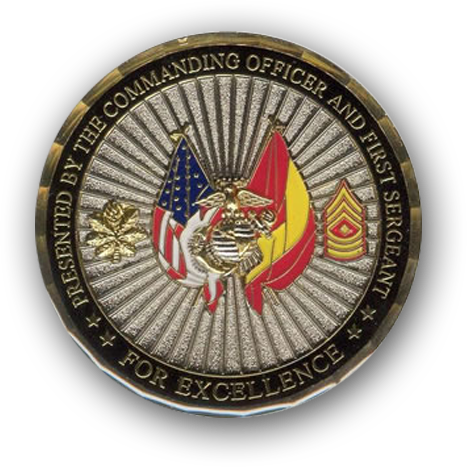 Sand Blasting
$.20 per Side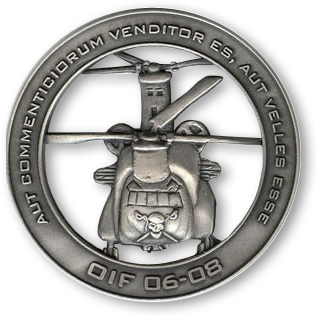 Cut Out
Run charge: $0.15/Hole Mold charge: $10.00/Hole Eyelet hole for dog tag N/C
Special Shapes
Die Charge $10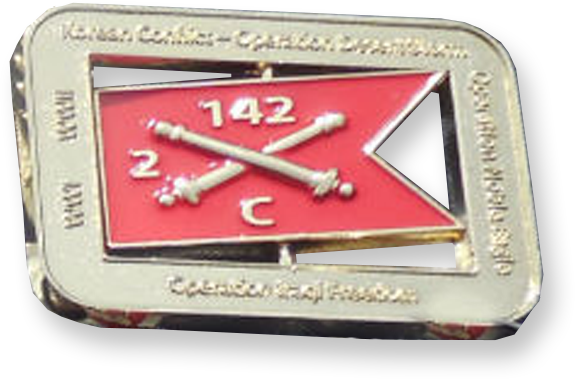 Spinner Coin
Call for Quote
Sequential Numbering
$.20 per Coin $.25 per Coin with Color
Laser Engraving Text
$.30 per Coin $.50 per Coin with Color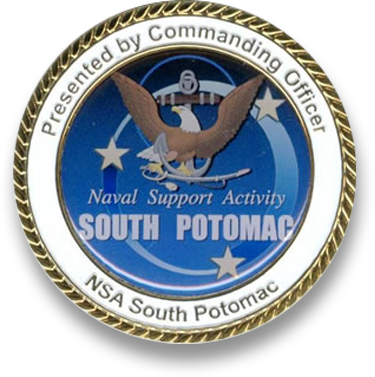 Photo with Epoxy Dome
Die charge: $75 $.50 per Coin
Dual Plating is the next best option for setting your coins apart from others. It is simply the process of adding a second plating to a coin on one or two sides. For example, let's plate a coin in brass but give it a chain edge. We will plate the chain in silver to give the coin a silver on brass look.
Epoxy Coating is the next application to the surface of the coin. It is a liquid epoxy that is applied to a portion or the entire surface of the coin. It is used to protect the surface from scratching or to provide the look of depth to the coin surface.
Sandblasting is used to soften the surface of a coin so that the text can be read more easily. For example a coin with a bright brass surface and text will be harder to read then the same coin that has been sandblasted.
Sequential numbering adds a sense of privilege to the coin. A coin or set of coins that is numbered means that only a certain number of these coins have been produced and if you have one of these coins you are part of a select group.
Laser Engraved Text allows you to add individual names to your coins. It is a great way of personalizing a coin for one of your comrades.
A Laser Printed Image gives you the ability to faithfully reproduce a picture and attach it to a coin then add an epoxy cover to the picture to protect it. This is the only method available to faithfully reproduce any image that does not lend itself to the ink and metal method of producing a coin.
You can add holes to a coin to give the coin a unique look. With holes you can create a dog tag, bottle opener or outline a building or patch.
The last and perhaps the most unique method of decorating a coin is to create a "Spinner Coin". A Spinner Coin is made up of the outside ring or square and the inside ring or square. Both rings are attached at the 12:00 and 6:00 position by pins that allow the center to spin. This is a most unusual method of decorating a coin and never fails to please the recipient.
We hope this Buyers Guide has been helpful to you and if you would like to speak to one of the Army Unit Coins staff regarding the design and creation of a coin.
Ms. Heather,
I want to inform you that I received the coins 100ea today. In behalf of our enlisted association I want to extend our appreciation for a wonderful job by your company.
– CPO, US Navy
Hi Heather, Thank you for the coins, We really like them, ya'll did a great job, We are out of here in 28 more days.
– 1stSGT, US Army
Ms. Cassidy,
The coins came in today. Everything looks great.
– CPT, US Army