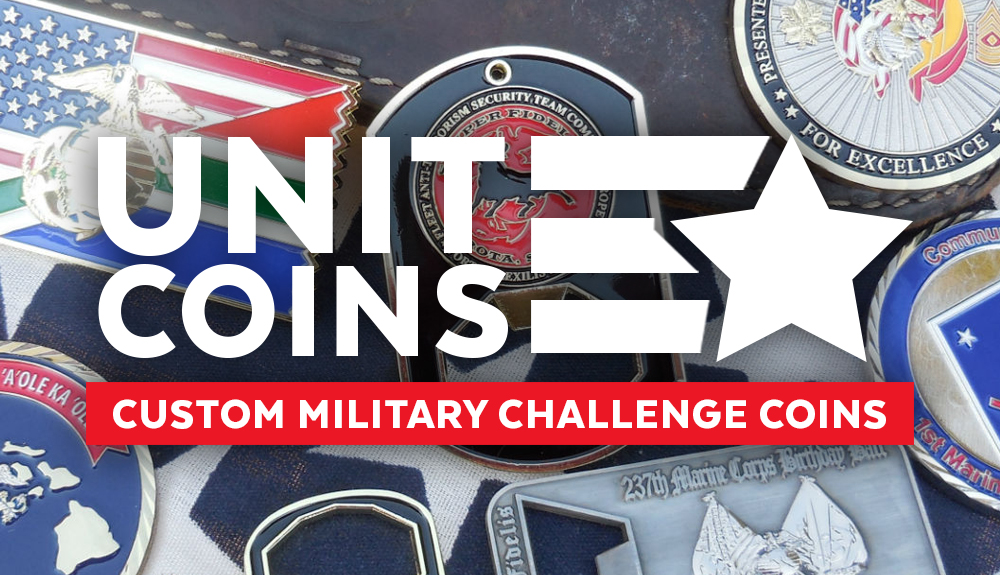 Custom challenge coins designed for specifically your unit! Depending on who you ask, challenge coins began as a tradition in World War I, when an Army airman who was shot down behind German lines used a coin his squadron had given him as a gift to identify himself and avoid a French resistance firing squad.
Since then, custom challenge coins have spread to every military service and other branches of our government, including firefighters and law enforcement. You can browse our gallery to look at the custom challenge coins we have built for the Army, Navy, Air Force, Marines, Firefighters, and Law Enforcement. A good unit commander knows the effect of giving challenge coins and recognizes how a simple gift can increase the esprit de corps within their group of servicemen and women.
Many service members proudly display their unit coins and challenge coins for excellence in elaborate display cases and each one tells a story or denotes a job well done. Each military challenge coin is custom made for your unit. Unit coins has been producing custom challenge coins for over 10 years and we are proud to provide the best looking custom military coins at the best possible price and our design services are absolutely FREE. Call or email us today for a free quote!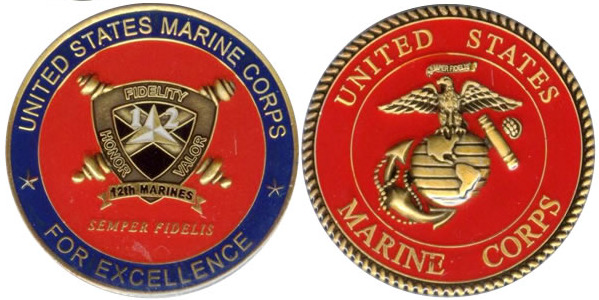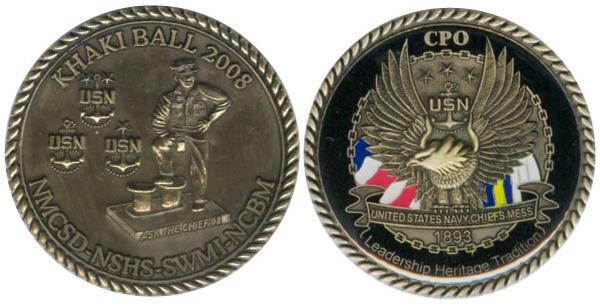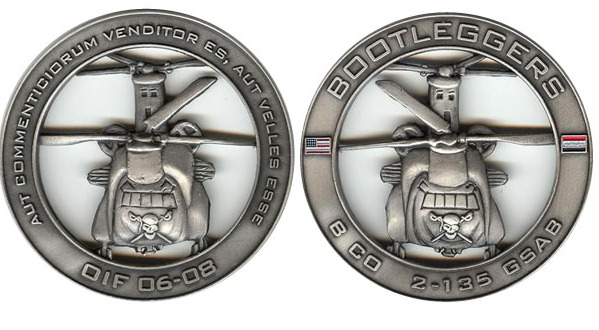 Creating Custom Coins is as Easy as 1, 2, 3!
Designing a Custom Military Challenge Coin
06/23/2017 Updated
A Brief History of Challenge Coins
There are many different origin stories when it comes to the challenge coin.  Some say that Roman Emperors gave specially struck coins to elite units of his Legion.  According to some, the United States Army Air Corps is believed to have begun the tradition of military challenge coins in World War II. A group of pilots from one unit decided to have small brass coins struck for each member, commemorating their time together. As it turns out, one of those pilots was shot down over France and ended up using that very coin to help identify him to friendly Resistance forces, who were on the lookout for German spies posing as Allied Airmen.
It didn't take long for the story to get out, and soon, every unit had their own coins made and the pilots started challenging each other to produce their unit's coin on demand. Lost challenges were penalized by having to buy drinks for the rest of the unit or performing silly stunts. Of course, this soon spread like wildfire through the rest of the military because the prospect of free drinks and watching your brothers-in-arms doing dumb tricks is the bedrock all military service is built upon. Check out more of the history of challenge coins here.
In the modern military, custom challenge coins are presented to members of a unit or visiting VIPs to show appreciation for their support, a job well done, and to boost morale. Reward the service members of your unit for going above and beyond the ordinary call of duty by creating your own custom challenge coin. You'll have a memento that will tell your unit's story for generations to come!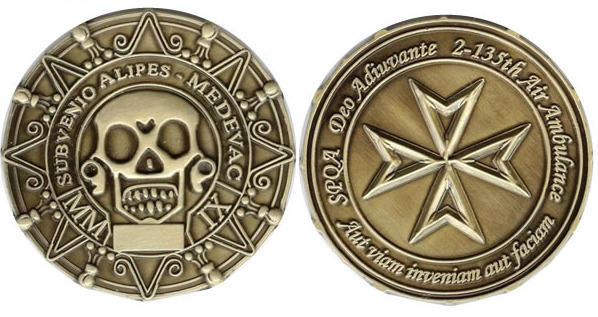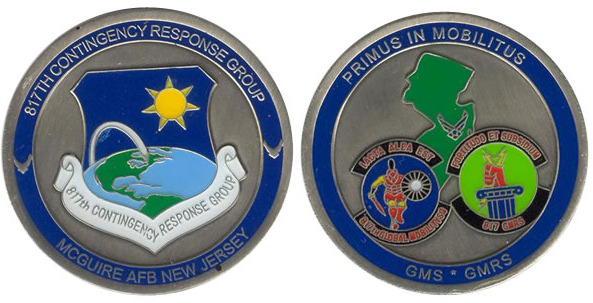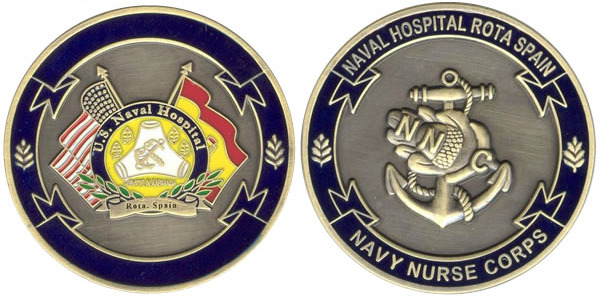 Custom Challenge Coins Design Guide
If you're thinking about creating a custom challenge coin for your military or civilian unit, there are a lot of options to consider. Unit Coins wants your challenge coins to perfectly represent your unit's history and pride, so we have put together a design guide to walk you through the process of designing and ordering the ultimate keepsake for your brothers-in-arms. You'll get the best quality coins at the best possible price.
Custom Challenge Coins Sizes
Last year, about forty percent (40%) of the coins we produced for military units were of the two-inch (2") round variety and this has been the most popular coin size for the last few years. It's popular for a couple of reasons: first, a 2″ coin is easy to carry in your pocket and it's the most traditional. In the last three years, we have seen a dramatic increase in larger coins as the larger sizes are becoming more popular. This trend is common throughout all the branches of the military because it allows units to display more artwork, the company's motto, and generally craft a more unique challenge coin.
Custom Challenge Coins Shapes
The round coin shape is still our most popular and most traditional of the coins we produce, however custom shaped coins are growing in popularity. We have seen it all throughout our years of producing custom military coins and certain branches have their favorites. For example, Army units like Dog Tag shaped coins while the Marine Corps often order coins that double as a bottle opener, which befits their reputation. Navy and Air Force Units will often order coins shaped in the outline of the ship or type of air frame they fly or serve on.
Custom Challenge Coins Edging
When creating a custom military coin, the edging you pick can go a long way to distinguishing yourself from the pack. The majority of custom coins we produce will use the default straight edge cut, which we do not charge extra for. 
Rope and diamond cuts are the next most common and will give your coin a look of sophistication. We also provide some unique edging options like our Anchor Chain edging which is very popular for Navy and Tank Tread edging is growing in popularity within Armored unit circles. Another custom coin edging we can produce is the barbed wire edge which is very popular with MP units of every branch.
Custom Military Coins Plating
This is the one area of designing a custom military coin that each branch seems to have its own preference. Here are the most popular plating, by military branch, from the last three years:
Army: Brass Plating

Marines: Brass Plating

Air Force: Silver, Nickel

Navy: Silver, Nickel

Law Enforcement: Brass Plating (To Match their Badges)
If you're look for a less common plating, we also offer Antique Brass, Copper, Antique Copper, Silver, Antique Silver, Antique Nickel, Black Nickel, Bright Gold, and Antique Gold.
Custom Challenge Coins Special Options
If you can imagine it, Unit Coins can help your special coin a reality. So let your creativity flow! You can shape your coin any way you want. Would you rather have a rifle or grenade-shaped coin?  We actually recently produced a grenade-shaped coin with removable pin that turned out incredible! We can also use the outline of a ship, plane, or any other vehicle as the base of your coin. Maybe there's some other shape that really represents your unit…like the Spartan Mask coin we recently made for a special forces unit.
Another popular option is the Spinner Coin which is always fun to show off and play with. Dual plating is our most popular option for Army and Marines custom military coins and the Navy and Air Force tend to prefer shaped cutouts for their coins.
We hope this brief guide helps you make an informed decision about choosing and designing a custom challenge coin for your unit. If you have any questions, shoot us an email or give us a call! We'd love to hear about your unit and help you produce a custom military coin that will last several lifetimes!
Custom Challenge Coins for Your Unit
Unit Coins wants to be your custom coin maker and we will take the time to get to know you, your service unit, and your needs so that your custom challenge coin properly represents the values and traditions of your unit.
You will find that our prices, combined with the quality of workmanship, make our coins the absolute best around. We offer FREE design services and we will provide unlimited revisions for your custom military coins because we want you to be happy and satisfied with your ordering experience. You will come to find our quality of workmanship and customer service is unmatched in the custom military coin industry.
We are very proud to work for our heroes and provide your men with the best looking keepsake around. We offer free shipping and an easy online payment system to make sure you get your custom challenge coins as soon as possible, without any hassle. You can browse our custom challenge coins in our gallery and learn more about making custom military coins before you order. Ordering your custom challenge coins is very simple. Head over to our quote page and pick which options you want on your custom coins. We will email you back a price with 48 hours. Once we have your go ahead we will start designing your custom challenge coins at no additional charge.
Get a Custom Challenge Coin Quote!
We just want the opportunity to serve you and your needs. Reach out to us with the form below and we can design a custom challenge coin and get you a quote in no time. Need help with ideas for a custom challenge coin? We have been making custom military coins for over 10 years and would the love the chance to answer any questions you might have. We can tell you what edging and plating options are the most popular for military challenge coins and explain the differences, so you make sure to get the custom challenge coin that looks and feels exactly the way you want. Thank you for your visit and thank you for your service!
Comments from the Troops:
Ms. Heather,
I want to inform you that I received the coins 100ea today. In behalf of our enlisted association I want to extend our appreciation for a wonderful job by your company.
- CPO, US Navy
Hi Heather, Thank you for the coins, We really like them, ya'll did a great job, We are out of here in 28 more days.
- 1stSGT, US Army
Ms. Cassidy,
The coins came in today. Everything looks great.
- CPT, US Army
Good Morning,
I just want to let you know that we have received our coins and are very pleased. Thank you and we will be sure to pass on your company information to the next group in hopes they will come to you as well. Again, thank you!
- MSgt, US Air Force
Heather,
We received the coins today and wanted to thank you for your business and great quality of work!
- SSgt, US Air Force
Hey Guys,
"I wanted to tell you that the coins look absolutely perfect and I recommended you to other campuses. Thank you for your excellent coins! You guys rock!
- Veteran
I got the coins this morning. Thank you very much!! They are AWESOME!
- SSgt, US Marine Corps
Got the coins this evening and my son-in-law has sent me photos. Even in his out of focus photos I am impressed. You all did a fantastic job re-creating our symbol. Thanks so much for working with me and thanks for your service!
- SFC Retired, US Army
Heather,
The coins just got here. They are FANTASTIC!!!!!!!. Thanks for all your help with these> I was wondering, if someone sees them and wants some of their own, can they just order them up?
THANKS again for your work with these, I really appreciate it.
- MAJ, US Army
I received the coins on Monday and they look great. Everyone that has seen them also agree that they came out better than what they thought from the drawing I showed them. Thanks for the great work again.
- Fire Investigator
Thank you. I have received the order yesterday and they look great. I
appreciate your work.
- MAJ, US Army
Heather,
I received the coins today. They look great.
Thanks!
- Civilian Account
Good morning Heather, thank you very much for the coins they look perfect. Thank you for everything.
- Civilian Account
I have received the two boxes. I thank you very much for the quick turn around and support. The coin is outstanding and will be of great personal value to all that receive it.
- Civilian Account
Thank you Heather very much for the coins. I was home on leave and brought those with me forward so I can hand them our during a formal sit down with the unit once we are home soon in the near future going through demob station. They are incredible.
- CPT, US Marine Corps
Heather,
Ma'am, today 29 September I received the coins that you shipped to us. I just want to tell you that they look AWESEOME! Everyone loves them…they are a little smaller than we wanted which was my fault since I changed it but they still look great. I also want to take this opportunity to thank you guys for all the patience and quick progression that you all performed. I am going home this Sunday so I will def pass on your company to the new personnel coming in. Thanks again for all your help. I'm sure we will do business in the future. Have a great day and ill talk with you soon.
- SrA, US Air Force
Heather,
I received the coins today! This is awesome! Thank you so much!
- SGT, US Army
Heather,
We received the coins and they look great!! Thank you.
- MAJ, US Army
Thank you Heather I much appreciate your continuous efforts on this for me. It has been a pleasure using your company to do these coins for me. Truly with sincerity your customer service, rates highly on my account and I will pass on to other fellow friends your information so they too may use your services.
- CPT, US Army
Heather,
The coins are a awesome. Thank you and your company so much for being so quick and professional but personable.
- FOP