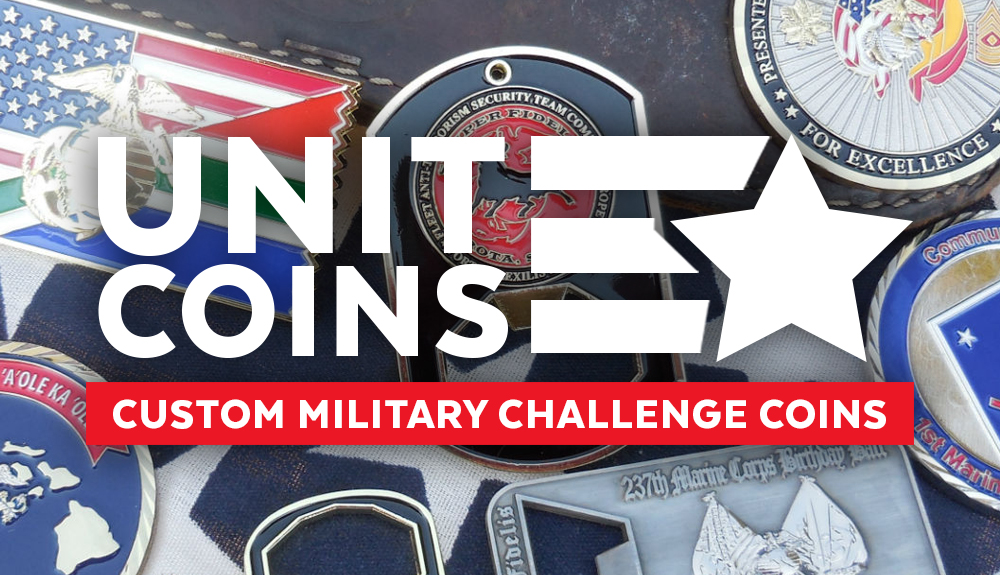 Custom Army challenge coins made specifically for your United States Army unit. We take great pride in crafting custom challenge coins for our heroes. Celebrate your valor, service, and sacrifice with a custom-designed challenge coin by Unit Coins.  Accept nothing but the best!  We will gladly help you create any type of Army challenge coins you need with FREE design services and unlimited revisions. We also provide free shipping to your APO and each custom coin is individually wrapped for quality assurance.
Custom Challenge Coins for Your Unit
When deciding on your custom Army challenge coins, keep in mind: a challenge coin is supposed to represent the traditions  and pride of your unit. Take the time to do some research on the historical origins of your unit for inspiration. Obvious elements, such as your unit's traditional set of logos and seals, should be included and if your unit has an appropriate motto, you might include that as well.   
Your custom challenge coins are also supposed to highlight your unit's unique personality, so use our resources to help you design a coin that has a shape, size, and look that tells the whole world your unit's story. If you have questions about custom military challenge coin design, feel free to contact our team of talented custom military challenge coin designers. They will help you find the design that is right for your unit.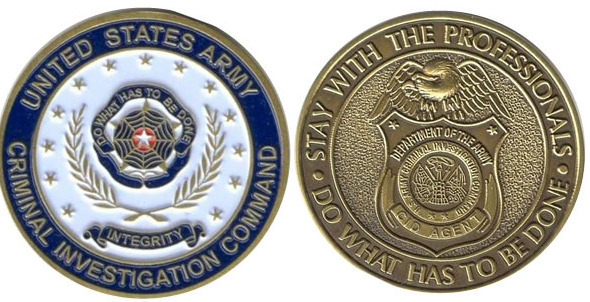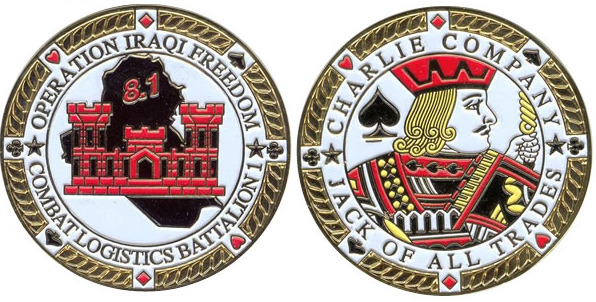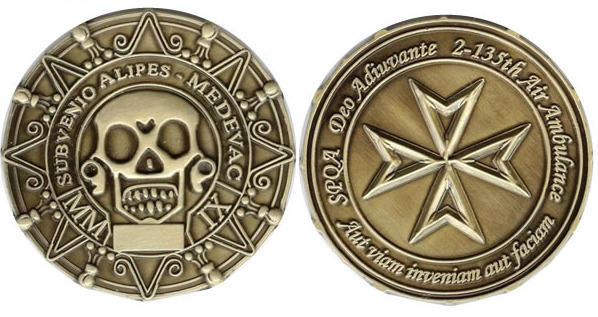 Designing Your Custom 

Army

 Challenge Coin
A Brief History of Army Challenge Coins
Like a lot of historical subjects, there are many different stories about the origins of the Army challenge coin. Some even claim that Roman emperors gave special coins to some of their legions to celebrate victories.
As for the United States Army, the tradition of challenge coins is believed to have begun in World War II with Office of Strategic Services personnel who were deployed in Nazi occupied France.
The coins  varied widely from custom jobs to simply a local coin used as a "bona fides" during a personal meeting to help verify a person's identity. There would be specific aspects such as type of coin, date of the coin, etc. that were examined by each party. This helped prevent infiltration into the meeting by a spy who would have to have advance knowledge of the meeting time and place as well as what coin was to be presented.
There is another story about an American soldier scheduled to rendezvous with Philippine guerrillas during WWII. As the story goes, he carried a Philippine solid silver coin that was stamped on one side with the unit insignia. The coin was used to verify to the guerrillas that the soldier was their valid contact for the mission against the Japanese.
Once the story got out, many units created their own coins and started challenging each other to produce their unit's coin on demand. Like many things in the military, this evolved into a game that involved buying drinks or performing silly stunts for a lost challenge. Check out more of the history of challenge coins here.
Today, custom challenge coins are presented to unit members and special visiting officials to show appreciation for their support, a job well done, boost morale, and to reward service members for going above and beyond their peers. Create your own custom challenge coin that will tell your unit's story for generations to come!
How the Challenge Coin Game Works
Rules of the game must be provided to and explained to all new coin holders.

The challenge coin MUST be carried, or be within easy reach, at all times. You may be challenged to produce it anywhere, at any time. You are allowed four steps and one arm's reach to access the coin, otherwise you will forfeit.

A challenger must state whether it is for a single drink or a round of drinks.

Failure by the person challenged to produce the coin in question, for any reason whatsoever, results in them owning a drink or round of drinks. The challenger must state which is at stake when they challenge. Once the offender has purchased the drink or round, they can't be challenged again by the same person.

If everyone who is challenged manage to produce their coins, the challenger loses and must buy the drinks (or rounds) for everyone they challenged. This can be very expensive when challenging multiple people, so challenge wisely.

Under no circumstances can a coin be transferred to another in response to a challenge. If a coin holder gives their coin to another person, they have forfeited their rights to it and it now belongs to the person who received it. It must be freely given–for example, if a person places the coin down and another person picks it up to examine it, that is not considered giving and the examiner is honor-bound to place the coin back where they got it. The examiner can't challenge while they hold another's coin. If a coin is misplaced, the person who finds it may negotiate a "reasonable ransom", when they return the member's coin.

If a coin is lost, replacement is up to the individual who loses. A new coin should be acquired at the earliest opportunity — because losing a coin and not replacing it doesn't relieve a member of his or her responsibilities. If others were to become aware of the loss,

There are no exceptions to the rules. They apply to individuals regardless of their state of dress or current assignment or activities. Four steps and an arms' reach are allowed in retrieving the con..

A Coin is a Coin and must be produced as such. They are not to be converted into belt buckles, key chains, or necklaces. Coins worn in a pouch or other holder around the neck are valid.

The group of people who are given a coin should be controlled at all times. Giving a coin to just anyone is like opening a fraternity to the public. It is an honor to be given a custom challenge coin, let's keep it that way. A coin that is awarded for meritorious service is of more personal value than a purchased coin.

The above rules apply to anyone who is worthy to be given or awarded your unit's challenge coin, has a purchased coin, or is known to be a previous coin holder.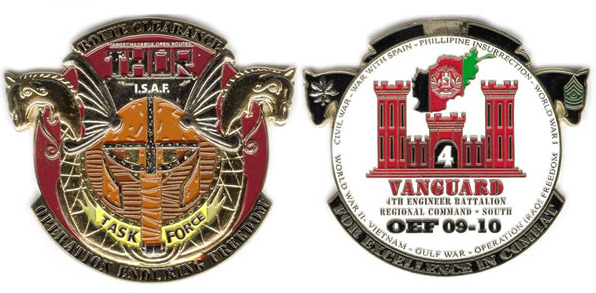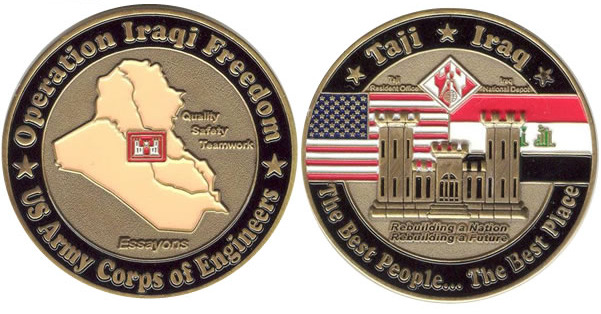 Building a Custom Army Challenge Coin
When deciding on how to build a custom army coin you should concentrate on what size, shape, plating, and general options you would like. We can build any coin from 1.5" on up. The most common coin is the 2" because it fits into the pocket and can be carried around easily. Nearly 40% of all the custom military coins we produce are 2″.
Army challenge coins 3" or more look great on display and are becoming more and more popular. We have seen an 18.5% growth over the last 3 years for the larger coins. If you are looking to produce a very unique Army unit coin having a custom shaped coin might be the way to go. Common ideas are having it shaped as your Army unit logo or in the shape of the country of your tour. One of most popular custom Army coin shape ordered are Dog Tag shaped coins.
Custom Army Challenge Coin Edging, Plating, and Special Options
Army units are as unique as its members and so are their choices in edging and plating options. The majority of Army coins we produce feature our straight edge, but we have several unique edging options unavailable at other coin companies. We recently introduced a Tank Tread edge option that has become very popular, and also feature Barb Wire Edge and Concertina Wire Edging options for MP units. We have many different plating options to get the right look and feel you are going for with your unit coin (including copper, silver, nickel, and gold), but the most popular for Army coins by far is Brass Plating. If you are looking for a First Sergeants challenge coin take a look at some of the coins we have produced with cutouts in our Army coin gallery.
In terms of special options, we would recommend Dual Plating. This technique blends two different plating options on the same coin to make a very striking coin and is the most popular special option for custom Army coins. Some Army units like to have their coins numbered and we provide this service as well. If you want to improve the visibility of the designs on your challenge coins, consider getting them sandblasted. Sandblasting a challenge coin, especially one with a naturally bright metal, tones down the plating's brightness, which allows you to see a coin's text and images more clearly. If you are going for something truly unique and special ask us about our Spinner coins. These coins are fun to play with and impressive to display. We recently made a grenade shaped coin with a removable pin which we were very proud of and one of the more interesting coins we have ever produced. If you can dream, we want to build it for you.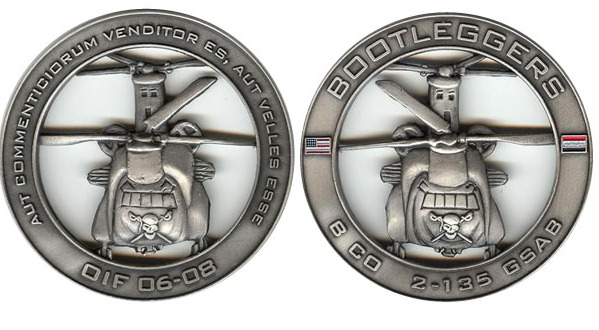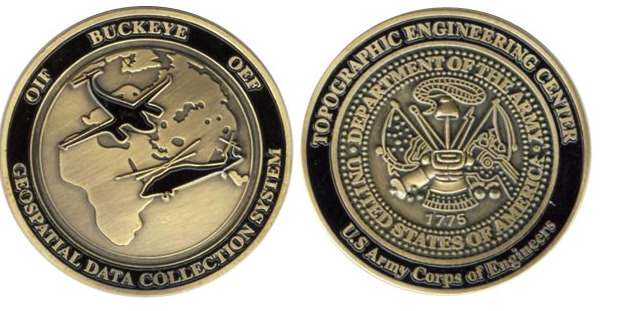 Custom Army Coins for Your Unit
We want to be your custom military coin maker and promise you will find our custom army coins have the best possible quality with the best possible price. We offer FREE design services and will not charge extra for additional proofs. We do provide FREE shipping and take great pride in our customer service. Give us a call or send us an email we would love to hear from you!
Custom Army Challenge Coin Quote
We can build any type of Army challenge coin you need or desire. It all starts with filling out the form below and we will get back to you within 48 hours to help you design the challenge coin you want.
Army Challenge Coin Image Gallery
Comments from the Troops:
Ms. Heather,
I want to inform you that I received the coins 100ea today. In behalf of our enlisted association I want to extend our appreciation for a wonderful job by your company.
- CPO, US Navy
Hi Heather, Thank you for the coins, We really like them, ya'll did a great job, We are out of here in 28 more days.
- 1stSGT, US Army
Ms. Cassidy,
The coins came in today. Everything looks great.
- CPT, US Army
Good Morning,
I just want to let you know that we have received our coins and are very pleased. Thank you and we will be sure to pass on your company information to the next group in hopes they will come to you as well. Again, thank you!
- MSgt, US Air Force
Heather,
We received the coins today and wanted to thank you for your business and great quality of work!
- SSgt, US Air Force
Hey Guys,
"I wanted to tell you that the coins look absolutely perfect and I recommended you to other campuses. Thank you for your excellent coins! You guys rock!
- Veteran
I got the coins this morning. Thank you very much!! They are AWESOME!
- SSgt, US Marine Corps
Got the coins this evening and my son-in-law has sent me photos. Even in his out of focus photos I am impressed. You all did a fantastic job re-creating our symbol. Thanks so much for working with me and thanks for your service!
- SFC Retired, US Army
Heather,
The coins just got here. They are FANTASTIC!!!!!!!. Thanks for all your help with these> I was wondering, if someone sees them and wants some of their own, can they just order them up?
THANKS again for your work with these, I really appreciate it.
- MAJ, US Army
I received the coins on Monday and they look great. Everyone that has seen them also agree that they came out better than what they thought from the drawing I showed them. Thanks for the great work again.
- Fire Investigator
Thank you. I have received the order yesterday and they look great. I
appreciate your work.
- MAJ, US Army
Heather,
I received the coins today. They look great.
Thanks!
- Civilian Account
Good morning Heather, thank you very much for the coins they look perfect. Thank you for everything.
- Civilian Account
I have received the two boxes. I thank you very much for the quick turn around and support. The coin is outstanding and will be of great personal value to all that receive it.
- Civilian Account
Thank you Heather very much for the coins. I was home on leave and brought those with me forward so I can hand them our during a formal sit down with the unit once we are home soon in the near future going through demob station. They are incredible.
- CPT, US Marine Corps
Heather,
Ma'am, today 29 September I received the coins that you shipped to us. I just want to tell you that they look AWESEOME! Everyone loves them…they are a little smaller than we wanted which was my fault since I changed it but they still look great. I also want to take this opportunity to thank you guys for all the patience and quick progression that you all performed. I am going home this Sunday so I will def pass on your company to the new personnel coming in. Thanks again for all your help. I'm sure we will do business in the future. Have a great day and ill talk with you soon.
- SrA, US Air Force
Heather,
I received the coins today! This is awesome! Thank you so much!
- SGT, US Army
Heather,
We received the coins and they look great!! Thank you.
- MAJ, US Army
Thank you Heather I much appreciate your continuous efforts on this for me. It has been a pleasure using your company to do these coins for me. Truly with sincerity your customer service, rates highly on my account and I will pass on to other fellow friends your information so they too may use your services.
- CPT, US Army
Heather,
The coins are a awesome. Thank you and your company so much for being so quick and professional but personable.
- FOP