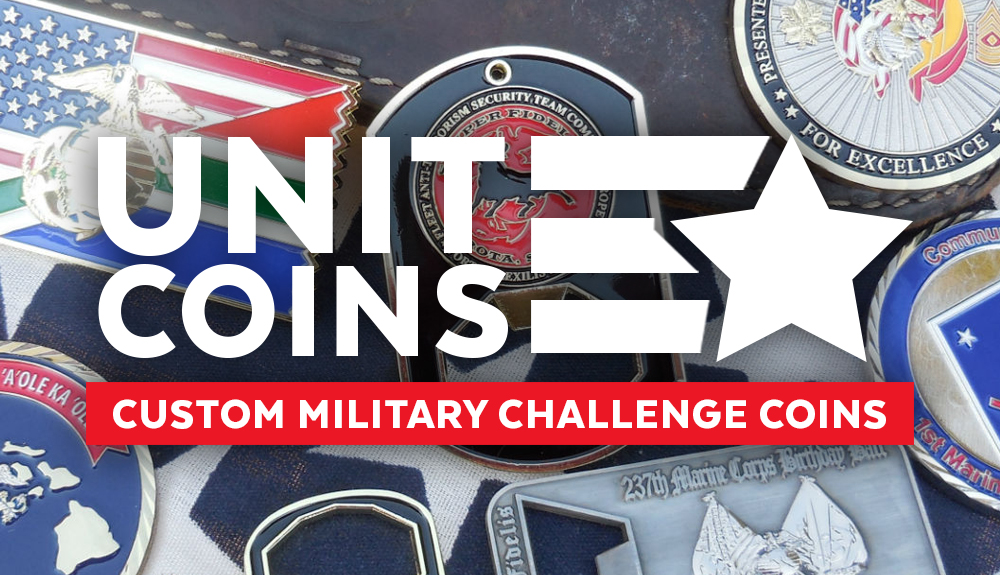 Custom commercial challenge coins made especially for your business! Forget commemorative mugs and jackets… commercial challenge coins allow those who have them  to participate in long-standing challenge coin traditions. Plus, their heirloom-quality constructing means that the memories will last long after the job is done. Nothing beats a custom commercial challenge coin when it comes to giving your hard-working employees something to recognize all their effort.
Custom  Challenge Coins for Your Company
If you are familiar with challenge coin history, then you know what a big deal it is to give and receive these special treasures. A custom commercial challenge coin for your business can serve many different purposes. Single examples can be gifted to senior executives and project leaders, and "team-style" multiples are a wonderful way to celebrate a big accomplishment in a department or workgroup. Plus, a custom commercial challenge coin puts your organization's members in an elite brotherhood of challenge coin-carrying aficionados, and may well be the beginning of an exciting and engrossing hobby! Check out our vast library of production samples today for your custom commercial challenge coin inspiration, and then give us a call. We would be more than happy to assist you with your custom commercial challenge coin design process.
Creating Custom Coins is as Easy as 1, 2, 3!
Designing Your Custom Commercial

Challenge

 Coin
Custom challenge coin design inspirations are not hard to find in the commercial world.
Chances are, you company or organization employs branding to express its identity to potential customers and industry competitors alike. This should be the core of your design idea. Is there a special shape associated with your company or organization's branding? That can make things even more simple, since we are able to design custom challenge coins in almost any shape you can imagine. We are even able to produce custom challenge coins with moving parts!
Metallic make-up is another custom challenge coin consideration to keep in mind. Your choice of metallic stock for your coins is limited only by price and your imagination. It might be informed by things like weight, durability, luster, and color… especially if  any of these qualities has a special resonance with your brand image. Remember, when designing a custom challenge coin for your business or organization, the goal is to create a piece of art that forms a special bond between the company or organization issuing the coin and its recipient. This is why giving deep thought to your custom coin design is so important.
Call our expert coin designers today if you have any questions. We have a state-of-the-art custom challenge coin production facility equipped to actualize your custom commercial challenge coin design vision. All it takes is your custom challenge coin idea and out expertise. Give us a call today!
Comments from the Troops:
Ms. Heather,
I want to inform you that I received the coins 100ea today. In behalf of our enlisted association I want to extend our appreciation for a wonderful job by your company.
- CPO, US Navy
Hi Heather, Thank you for the coins, We really like them, ya'll did a great job, We are out of here in 28 more days.
- 1stSGT, US Army
Ms. Cassidy,
The coins came in today. Everything looks great.
- CPT, US Army
Good Morning,
I just want to let you know that we have received our coins and are very pleased. Thank you and we will be sure to pass on your company information to the next group in hopes they will come to you as well. Again, thank you!
- MSgt, US Air Force
Heather,
We received the coins today and wanted to thank you for your business and great quality of work!
- SSgt, US Air Force
Hey Guys,
"I wanted to tell you that the coins look absolutely perfect and I recommended you to other campuses. Thank you for your excellent coins! You guys rock!
- Veteran
I got the coins this morning. Thank you very much!! They are AWESOME!
- SSgt, US Marine Corps
Got the coins this evening and my son-in-law has sent me photos. Even in his out of focus photos I am impressed. You all did a fantastic job re-creating our symbol. Thanks so much for working with me and thanks for your service!
- SFC Retired, US Army
Heather,
The coins just got here. They are FANTASTIC!!!!!!!. Thanks for all your help with these> I was wondering, if someone sees them and wants some of their own, can they just order them up?
THANKS again for your work with these, I really appreciate it.
- MAJ, US Army
I received the coins on Monday and they look great. Everyone that has seen them also agree that they came out better than what they thought from the drawing I showed them. Thanks for the great work again.
- Fire Investigator
Thank you. I have received the order yesterday and they look great. I
appreciate your work.
- MAJ, US Army
Heather,
I received the coins today. They look great.
Thanks!
- Civilian Account
Good morning Heather, thank you very much for the coins they look perfect. Thank you for everything.
- Civilian Account
I have received the two boxes. I thank you very much for the quick turn around and support. The coin is outstanding and will be of great personal value to all that receive it.
- Civilian Account
Thank you Heather very much for the coins. I was home on leave and brought those with me forward so I can hand them our during a formal sit down with the unit once we are home soon in the near future going through demob station. They are incredible.
- CPT, US Marine Corps
Heather,
Ma'am, today 29 September I received the coins that you shipped to us. I just want to tell you that they look AWESEOME! Everyone loves them…they are a little smaller than we wanted which was my fault since I changed it but they still look great. I also want to take this opportunity to thank you guys for all the patience and quick progression that you all performed. I am going home this Sunday so I will def pass on your company to the new personnel coming in. Thanks again for all your help. I'm sure we will do business in the future. Have a great day and ill talk with you soon.
- SrA, US Air Force
Heather,
I received the coins today! This is awesome! Thank you so much!
- SGT, US Army
Heather,
We received the coins and they look great!! Thank you.
- MAJ, US Army
Thank you Heather I much appreciate your continuous efforts on this for me. It has been a pleasure using your company to do these coins for me. Truly with sincerity your customer service, rates highly on my account and I will pass on to other fellow friends your information so they too may use your services.
- CPT, US Army
Heather,
The coins are a awesome. Thank you and your company so much for being so quick and professional but personable.
- FOP