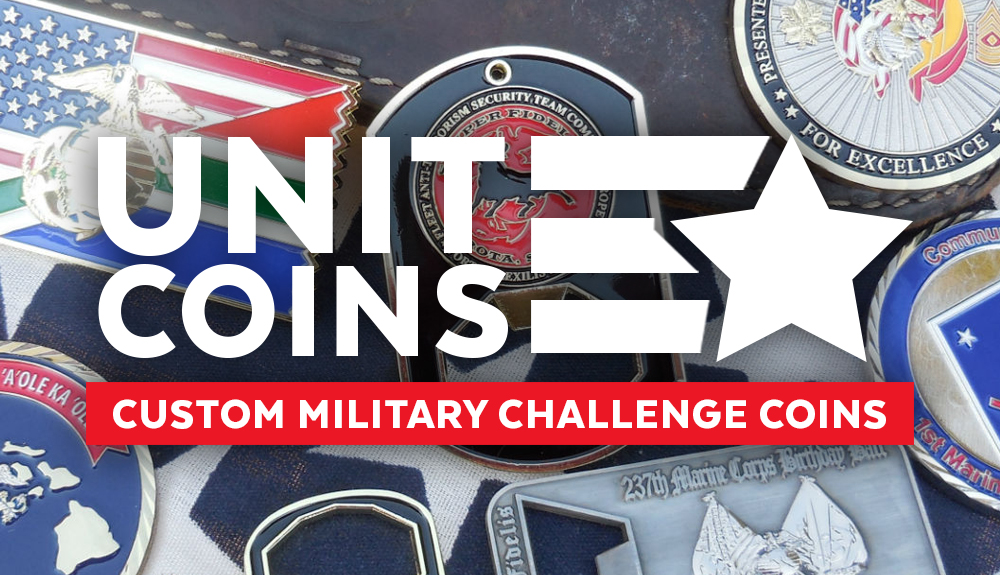 Custom commercial challenge coins made especially for your business! Forget commemorative mugs and jackets… commercial challenge coins allow those who have them  to participate in long-standing challenge coin traditions. Plus, their heirloom-quality constructing means that the memories will last long after the job is done. Nothing beats a custom commercial challenge coin when it comes to giving your hard-working employees something to recognize all their effort.
Custom  Challenge Coins for Your Company
If you are familiar with challenge coin history, then you know what a big deal it is to give and receive these special treasures. A custom commercial challenge coin for your business can serve many different purposes. Single examples can be gifted to senior executives and project leaders, and "team-style" multiples are a wonderful way to celebrate a big accomplishment in a department or workgroup. Plus, a custom commercial challenge coin puts your organization's members in an elite brotherhood of challenge coin-carrying aficionados, and may well be the beginning of an exciting and engrossing hobby! Check out our vast library of production samples today for your custom commercial challenge coin inspiration, and then give us a call. We would be more than happy to assist you with your custom commercial challenge coin design process.
Designing Your Custom Commercial Challenge Coin
Custom challenge coin design inspirations are not hard to find in the commercial world.
Chances are, you company or organization employs branding to express its identity to potential customers and industry competitors alike. This should be the core of your design idea. Is there a special shape associated with your company or organization's branding? That can make things even more simple, since we are able to design custom challenge coins in almost any shape you can imagine. We are even able to produce custom challenge coins with moving parts!
Metallic make-up is another custom challenge coin consideration to keep in mind. Your choice of metallic stock for your coins is limited only by price and your imagination. It might be informed by things like weight, durability, luster, and color… especially if  any of these qualities has a special resonance with your brand image. Remember, when designing a custom challenge coin for your business or organization, the goal is to create a piece of art that forms a special bond between the company or organization issuing the coin and its recipient. This is why giving deep thought to your custom coin design is so important.
Call our expert coin designers today if you have any questions. We have a state-of-the-art custom challenge coin production facility equipped to actualize your custom commercial challenge coin design vision. All it takes is your custom challenge coin idea and out expertise. Give us a call today!
Ms. Heather,
I want to inform you that I received the coins 100ea today. In behalf of our enlisted association I want to extend our appreciation for a wonderful job by your company.
– CPO, US Navy
Hi Heather, Thank you for the coins, We really like them, ya'll did a great job, We are out of here in 28 more days.
– 1stSGT, US Army
Ms. Cassidy,
The coins came in today. Everything looks great.
– CPT, US Army