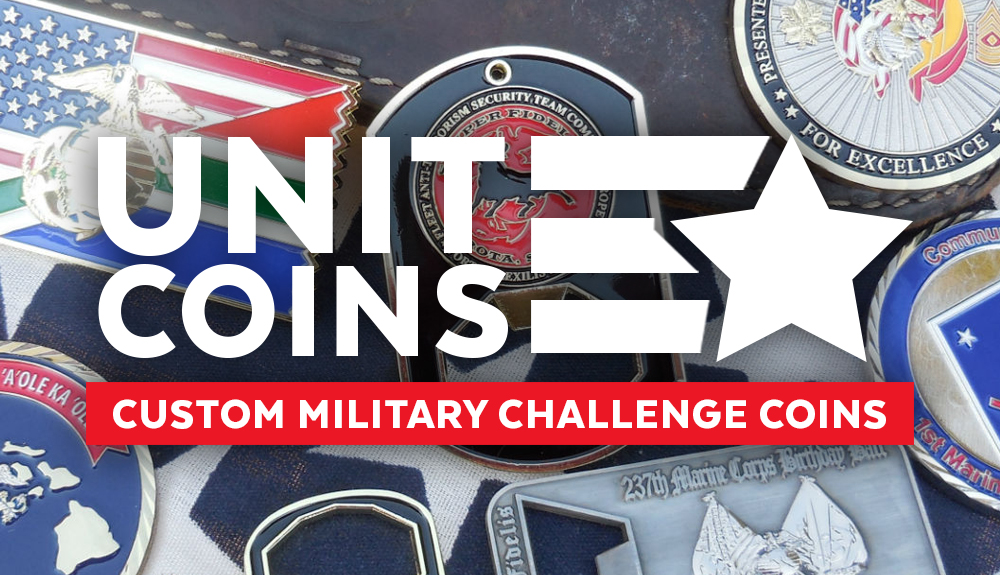 Custom challenge coins for your Marine Corps unit. Custom challenge coins are becoming more and more popular in today's military. Marine Corps coins are a great way to spread esprit de corps and are a perfect keepsake for your deployment tours or birthday balls. These custom souvenirs will be something the service men and women will keep their whole lives as a way to remember the time you served together. Marines take pride in receiving a challenge coin presented for excellence, especially if it is awarded by their commanding officer or First Sergeant.
Custom Military Challenge Coins for Your Unit
When you serve alongside men and women who risk their lives for each other and for the mission, the deep bonds of camaraderie form. Custom challenge coins for your military unit are one way to honor and celebrate the fraternity of servicemen and women. These bonds last a lifetime, so why not make an investment in an esteemed token of your shared experience? Our high-quality custom coins are built to heirloom-quality standards. They will last several lifetimes and they'll keep the memory of your unit and its achievements alive for generations to come. Contact us today for a free custom military challenge coin design consultation.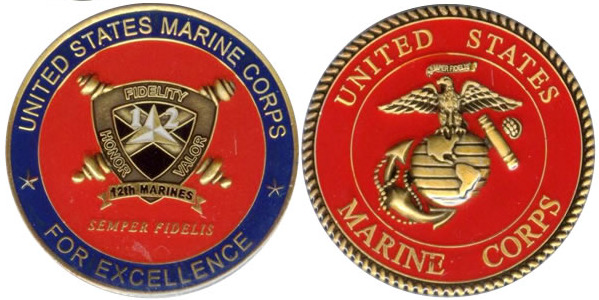 Designing Your Custom Marine Challenge Coin
The History of Challenge Coins
Like many military traditions, the history of the challenge coin is shrouded in mystery and cloaked in conflicting stories. According to some, challenge coins date back to World War II and they were first used by Office of Strategic Service personnel who were deployed in Nazi occupied France. The coins were used as "bona fides" during secret meetings to help verify a person's identity. Specific aspects of the coin, such as date or denomination, would be established and then examined by each party in order to keep the meetings safe from infiltration.
Some legends place the beginning of challenge coins in the post-Korean conflict era (some as late as the Vietnam War). It has been said that Colonel William "Buffalo Bill" Quinn had coins made for the men who served in Korea for his 17th Infantry Regiment (still nicknamed "The Buffalos") during 1950 and 1951.
Colonel Verne Green, commander of the 10th Special Forces Group-A, embraced the idea. He had a special coins struck with the unit's crest and motto in 1969. Until the 1980s, his unit was the only known unit with an active challenge coin tradition.
In our modern military, custom challenge coins are presented to unit members and special visiting officials to show appreciation for their support, to recognize a job well done, boost morale, and to reward service members for exemplary service. Create your own custom challenge coin that will tell your unit's story for generations to come!
Design Your Custom Challenge Coin
Our custom Marine Corps challenge coins are made from the best possible materials and you will not be able to find coins of this quality at a better price. We will work with you to create and design the perfect coin for your Marine unit. Unlike our competitors, we do not charge extra for revisions to the design!
Our goal to produce a custom Marine challenge coin that represents your unit or event while being conscious of your final price.  Please view the Marine coins in our gallery as samples of our work with other Marine units and we are happy to answer any questions you might have about what design will work the best for your coin order.
We pride ourselves in getting your challenge coin order right and will work with you to produce the very best Marine Corps challenge coin.
Custom Marine Challenge Coin Design Options
Marines are a special breed. While other services are trying to win the prettiest coin contest, Marines are more concerned with having their coin double as something useful, like a bottle opener. That enterprising spirit is why we love our Jarheads!
Custom Challenge Coin Sizes
About forty percent (40%) of the coins we produced for Marine units were of the two-inch (2") round variety. Year in and year out, this has been the most popular coin size for a couple of reasons: first, a 2″ coin is easy to carry in your pocket and it's the most traditional size. In the last three years, we have seen a dramatic increase in larger coins because they allow units to display more artwork, add a company motto, and craft a more unique challenge coin.
Custom Challenge Coin Shapes
The round coin shape is still our most popular and most traditional of the coins we produce, however custom-shaped coins are growing in popularity. If there is an image or item that really represents what your unit is all about, then consider a coin in that shape. We can make almost any shape: the outline of a vehicle, a grenade, an arrowhead, a symbol of your unit or tour, or even your favorite latrine mop.
Marine Challenge Coin Plating
Our most common Marine coins are plated with brass because we know that Marines are world-renowned for brass polishing skills. Dual plating is the most common special option and is a technique that applies two different metal platings on the same coin to make a truly striking custom coin. If you're looking for a less common plating, we also offer Antique Brass, Copper, Antique Copper, Silver, Antique Silver, Antique Nickel, Black Nickel, Bright Gold, and Antique Gold.
Coin Edging Options
The majority of custom coins we produce will use the default straight edge cut, which we do not charge extra for. Rope and diamond cuts are the next most common and will give your coin a more sophisticated look. For our Marine MP units, check out our barbed or concertina wire edging options and for our tankers, ask about our new tank tread edging.
Custom Challenge Coin Special Options
For a more unique challenge coin, we offer laser engraved text, as well as sequential numbering to denote the exclusivity of your challenge coins.If you want to get really fancy (you know who you are) may we suggest looking into a spinner coin. We can truly make any coin that you can dream and we look forward in helping you design the perfect custom Marine coin.
Custom Marine Corps Coin Quote
If you have an idea, concept, or design you would like to turn into a challenge coin, give us a call! We provide free art design, and unlike many of our competitors, we provide unlimited revisions free of charge. Our goal is to make sure that your Marine challenge coins turn out exactly the way you wanted them to. We also provide free shipping to your APO on all of our orders.
It all starts with a conversation: email us below in the contact form or give us a call. Give us an outline of what you're looking for we can help you design the perfect Marine Corps custom challenge coin your unit deserves. Thanks for reading, thanks for serving, and we look forward to hearing from you!
Ms. Heather,
I want to inform you that I received the coins 100ea today. In behalf of our enlisted association I want to extend our appreciation for a wonderful job by your company.
– CPO, US Navy
Hi Heather, Thank you for the coins, We really like them, ya'll did a great job, We are out of here in 28 more days.
– 1stSGT, US Army
Ms. Cassidy,
The coins came in today. Everything looks great.
– CPT, US Army